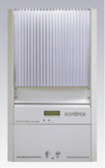 The Xantrex line of GT grid-tie solar inverters makes installation and operation of a residential or small commercial grid connected PV system easy and affordable. There are now 5 Xantrex GT inverters available with maximum AC outputs of 2.8kW, 3.3kW, 3.8kW, 4.0kW and 5.0kW. The GT Series offers high efficiency ( up to 95.5% CEC ), clean aesthetics, 240 and 208 volt operation, high reliability backed by a 10 year warranty, compact size, and a NEC compliant integrated DC/ AC disconnect. The GT Series may be installed as a single inverter, for a single PV array, or in a multiple-inverter configuration for larger PV arrays.

Which one is right for you depends on the size of your solar array and if your AC voltage is 240 or 208. These inverters are very efficient (peak efficiencies ~95%) at converting high voltage DC power from your solar array to AC power that can be used by your AC appliances or sold back to the utility company. The Xantrex GT inverters feature a rugged NEMA 3R enclosure that allows for indoor or outdoor installations and they come with a lightweight and versatile mounting bracket that simplifies installation. When mounted outdoors, the GT's built-in ground fault protection device and lockable AC/ DC disconnects eliminate the need to install additional disconnects satisfy the NEC code. Another plus from an installer's point of view is that the GT's wiring box can be separated from the sealed inverter enclosure allowing the AC/DC disconnects to remain in place if the inverter should ever need to be sent in for service. Unlike other grid-tie inverters that decrease their power output as the temperature rises, the Xantrex GT inverters will maintain full rated power up to 104°F. Its 2 line backlit liquid crystal display shows the solar array's voltage, current and instantaneous power production as well as the utility grid's voltage & frequency, the system's lifetime energy production, the daily time online "selling", fault messages and installer customizable screens. A vibration sensor allows the tap of a finger to activate the LCD backlight. You can also connect the GT inverter to your computer via an RS232 communication port to monitor the inverter remotely using the free Xantrex GT View software (available online). On top of all these amazing features is the standard 10 year warranty from Xantrex against defects in materials and workmanship with an option to extend that to 10 years. All in all, we feel that the Xantrex GT series of grid-tie solar inverters is one of the best on the market today. Please Click here for the spec sheet for more details or give us a call if you would like us to size a grid-tie PV system for you featuring one of these Xantrex GT series inverters.
Model
GT 2.8
GT 3.3
GT 3.8
GT 4.0
GT 5.0
Efficiency percent
94.0
95.5
95.0
95.5
95.5
DC input voltage
195-550
200-550
195-550
235-550
235-550
Continuous power watts (240)
2800
3300
3800
4000
5000
AC output volts*
240
240
240
240
240
Dimensions inches

all models: 28.5 x 16 x 5.7

Weight lbs.
49
51
58
58
58
Price
$2375
$2875
$3130
$3130
$3950
*These same Xantrex GT models also work in 3 phase (208v) configurations.
Call us for specifications when being used in 3 phase wiring!
Optional Accessories:
Communications Gateway NA $650
GT Solar Inverter Monitor $300
Fan Kit for GT inverters $150