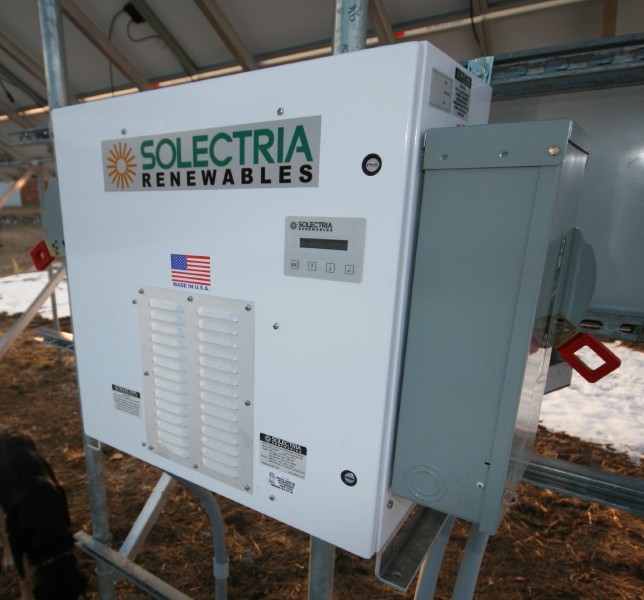 Solectria Renewables PVI 13KW and PVI 15KW are DSP-controlled PV inverters for grid connected commercial, industrial and utility 3-phase PV systems. The core of the inverter, is Solectria's proven DMGI 245 distributed generation inverter, which uses state-of-the-art control techniques and devices including space vector PWM, a precision MPT algorithm, and low-loss trench-gate IGBTs. With inverter power electronics efficiency up to 97% (95.8% including the transformer) and fully integrated packaging, the PVI 13KW and PVI 15KW are efficient, easy to install and reliable.
Features and Options
• Fully integrated design includes transformer, filters, AC & DC disconnects, DC combiner-fuses
• Premium overall efficiency
• Simple set-up and connections (connect DC from PV strings and 3-phase AC connections)
• Precision DSP-controlled Maximum Power Tracking Algorithm
• High-reliability design, based on 20 years of power electronics products, includes sealed power and signal control electronics, high-efficiency magnetics
• No night-time standby losses
• Optional 6-7 fuse PV combiner in DC disconnect
• Optional "Blizzard-Proof," gasketed disconnects, recommended for rooftop or other severe locations
• Optional forward facing disconnects version
• Optional positive grounding version

Connectivity:
• RS485, MODBUS RTU standard for communication with SCADA system.
• User-navigable LCD display.
• SolrenView Inverter-Direct data monitoring option, Ethernet is standard. Compatible with other web-monitoring services.

Safety Features:
• Electronic temperature protection, intelligent cooling
• DC ground-fault detection and interrupt
• Current and voltage limit protections
• Standards-compliance: Listed to UL1741IEEE Std1547) and tested to NY SIR Surge Test Requirements (IEEE 62.41). Listed on CEC's eligible equipment list

String Sizing Tool:
Solectria Renewables provides a String Sizing Tool via their website at: http://www.solren.com/stringSizing.html.
Solectria offers a variety of larger inverters for bigger residential and commercial systems. Call us for pricing and additional information, 406-777-4321
*******